Introduction
Westlake Omics has undertaken many clinical blood proteome projects since its establishment. After dedicated research and development by the team, the OmniProt in-depth blood proteomics service is officially launched, significantly improving the protein detection rate! Currently, the total protein identification amount detected by four batch TMTs is as high as 2900+, and the average single batch protein identification amount can reach 2500+.
The team uses characteristic chemical microparticles to enrich low to medium abundance proteins in the blood, and uses the high depth TMT method for MS detecting. An interesting conclusion we find that when the identified protein numbers in the blood increases, we find that the proportion of low to medium abundance identified protein numbers brought by OmniProt is more than 95%. Therefore, we can find more differential proteins by this new method.

♦ New Products Offer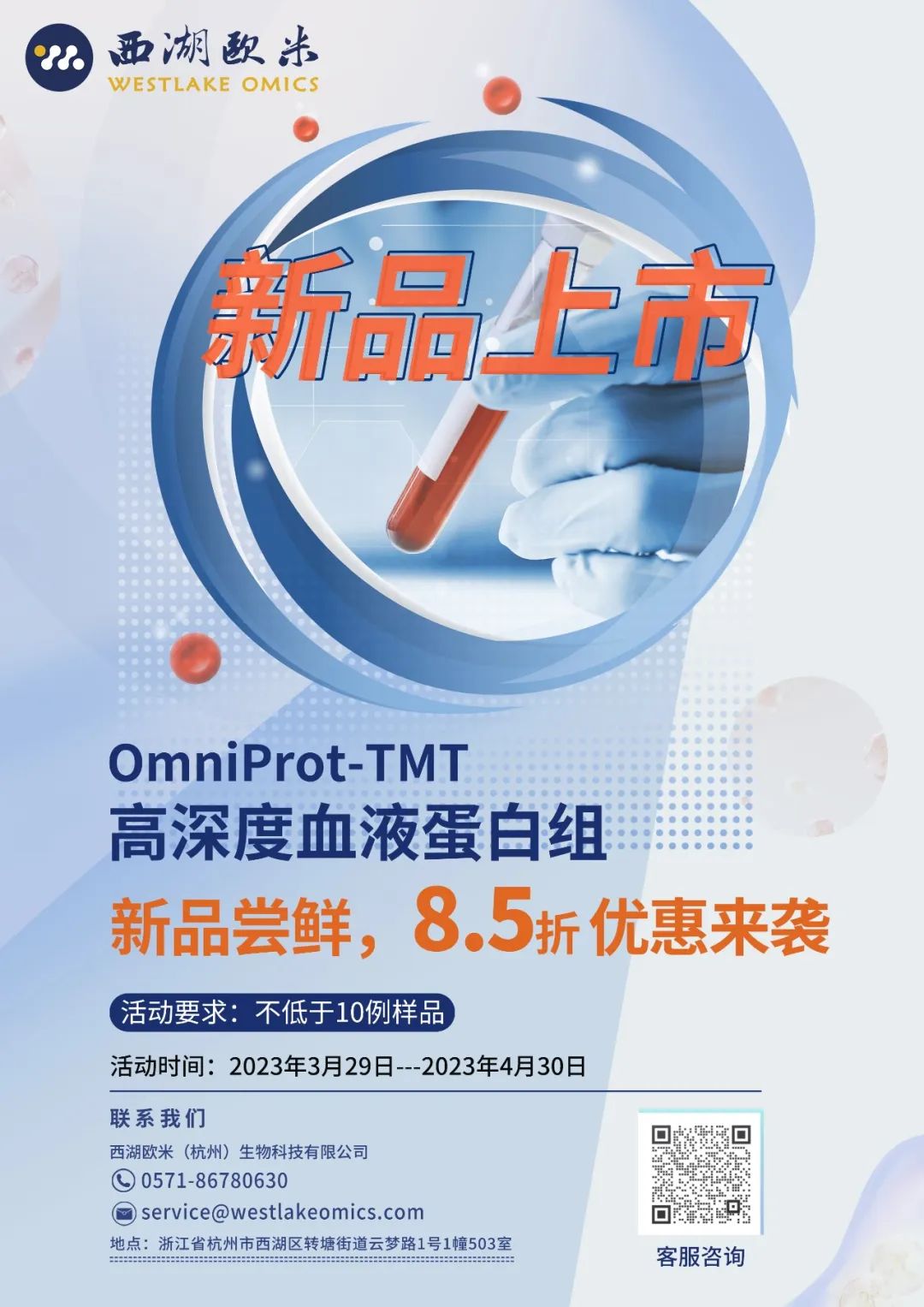 Service
OmniProt TMT service, ultra-high depth blood proteome
References
1. Anderson NL, Anderson NG. The human plasma proteome: history, character, and diagnostic prospects. Mol Cell Proteomics. 2002 Nov;1(11):845-67.
2. Ignjatovic V, Geyer PE, Palaniappan KK, et al. Mass Spectrometry-Based Plasma Proteomics: Considerations from Sample Collection to Achieving Translational Data. J Proteome Res. 2019 Dec 6;18(12):4085-4097.
3. Geyer P E, et al. Revisiting biomarker discovery by plasma proteomics[J]. Molecular systems biology, 2017, 13(9): 942.
4. Liu Y, Wang J, Xiong Q, et al. Nano-Bio Interactions in Cancer: From Therapeutics Delivery to Early Detection. Acc Chem Res. 2021 Jan 19;54(2):291-301.